For the last few years, I've been a "VR tech professional", which means I have, on my desk, various pieces of Virtual/Augmented/Mixed Reality equipment. These will get cheaper, but at the moment are dubious buys for the average person. Despite companies' best efforts, set-up is still a confusing pain.
VR still has so many goddamn boxes. When can I get it in syringe form? pic.twitter.com/xNXWy16bNv

— Dustin Freeman🏡TO (@dustinfreeman) April 25, 2017
Some room-scale Virtual Reality hardware like the Vive or Oculus Touch requires a dedicated, calibrated space. These don't exist in a lot of homes. When I was making a multiplayer Kinect game a few years ago, one of the limiting problems was that clear space in the average person's living rooms was just not enough.
So let's talk about ticketed Virtual Reality Venues, both temporary and permanent, using specific examples in Toronto. VR venues can serve a few purposes:
– equipment rental
– a dedicated, professional space setup
– a night out away from your living space
Vivid VR ran a pop-up Virtual Reality Cinema on Dundas Street West in the Summer of 2016. $20, 1 hour. I was really excited to see their approach; having incorporated virtual reality into a couple performances with Raktor so far, I wanted to see what a company that called itself a "VR Cinema" would do. The space was filled with swivel chairs. They handed out Gear VRs preloaded with some 360 films and over-ear headphones. They told us to put the headset on, and then only one of the earpieces, so we could hear their instructions. The organizer then started a countdown and we were all to point at the same movie icon in the Oculus Video app and press the GearVR touchpad to start it at the same time, and then put the last earphone on. So we put the earphones on and watched "together", but actually isolated.
I was disappointed by this – I was expecting bespoke multi-headset-synced-playback software. I was there with a friend and I wanted us to be able to talk to each other during the movie and call attention when we noticed interesting stuff going on. I can't recall the movies themselves, but they were guilty of needlessly incorporating movement; in the first scene we were mounted on top of a car.
I had already owned a GearVR at this point for at least 6 months, so the value proposition (for me) of this cinema was negligible. The tickets were totally sold out, even though it felt like merely equipment rental.
The Toronto International Film Festival (TIFF) ran a summer 2016 VR event series called POP which has, so far, been the best-run VR event I've ever seen. They based it out of a gallery space in their big King Street East building. Cleverly, each Vive or Oculus station used a ceiling-mounted cable with a spring-loaded dog leash to keep the cable out of the way. Entry price was $23.75 for a few dozen VR experiences, and an attendant at each station ensured visitors did not get disoriented and things ran smoothly. Raktor premiered our asymmmetric multiplayer storytelling experience Inverse Dollhouse here, and having an attendant I could train to run the experience and smooth any bumps for new people was great. TIFF POP was very successful ticket-sales-wise, each in the series selling out weeks in advance.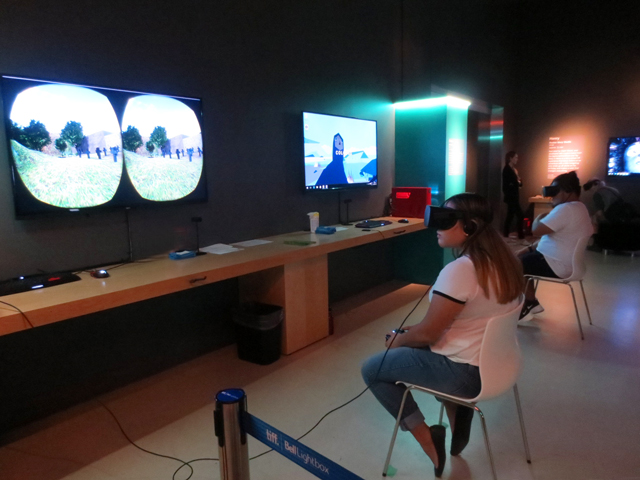 I currently live in Kensington Market, and within 500 m of two (TWO!) VR-only arcades.
Toronto VR Games, at 55 Kensington Ave., has a very genuinely cyberpunk-y feel. It's a former Chinese fruit market, keeping some of the signage, and added some sick dragon art.
Inside, it's lit like a submarine (dark red) and the VR station dividers are black curtains. It feels exactly like the place I'd go if I wanted myself to become emaciated in VR while I did some 96 hour hack to steal a corp's info in a William Gibson novel. There's a fridge with sugar drinks I'm sure I could pay the staff to pour in my mouth so I wouldn't have to take my headset off. This place has mostly Vive stations, and some Oculus stations in the back, but no Oculus Touch yet. Currently $28.25/hour.
To contrast, VRPlayIn at 294 College Street is well-lit and feels like somewhere I could take a risk-averse suit-wearing person or the kind of person who brings their kids around in a van. VRPlayIn opened quietly open a couple weeks ago.
VRPlayIn only has Vive stations, and is currently $29-$39/hour depending on day/time of the week, though considering the place is so nice I feel they could charge much more. They even have a large private room that legitimately feels like a private karaoke room. I've dreamed of that "bookable holodeck" setup for a few years now and this is the first time I've seen it.
Apparently, VRPlayIn is a wing of VNovus, a VR software studio. VNovus has made an in-headset VR app launcher and intro experience. This seems redundant to the work that Steam and Oculus has done, but I suppose everyone has a their own ideas of what users' first contact with VR should be.
Toronto VR Games vs. VRPlayIn: VRPlayIn deserves your money more because they are a genuinely nicer space, but if you want to be confronted by cyberpunk aesthetic realness, Toronto VR Games is for you. They both have a very large selection of experiences, though if you want to play something specific, you can check in advance.
There's another upcoming VR Venue: House of VR opening May 6th. An article claimed they were Toronto's first VR lounge; tbd if they're lounge-y enough to not count as an arcade. They do promise to have at least one Mixed Reality green screen area – though probably not as good as the state of the art: LIV.
Raiders' e-Sports Centre is a surprise: it looks, sounds, smells and feels like a Sports Bar, but it's e-Sports, not, like, actual sports. Big-screen TVs on almost every wall show mostly League of Legends, but also various Twitch streamers' channels. A big area with leather booths serves standard beer and pub food. To break from a normal sports bar, there are a few dozen bookable desks with PCs, just like an internet cafe. There are a few more bookable booths with multiplayer game consoles. There are a couple VR stations with Vives, called the Atomic District. Pricing is $25/hour. Unlike the other current VR arcades in Toronto, you can actually get food and alcohol here, so it's approaching a real party venue. Here, at least one of Vive setups is surrounded on 3 sides with open space, unlike being in a booth at VRPlayIn or Toronto VR Games, so if you want to be performative, this is the spot.
Electric Perfume is a "studio and event space" near Pape Station that, full disclosure, I've run multiple events out of and taught workshops at. With a projector, wraparound white walls, and a single well-constructed Vive setup it's the most holodeck-y of any setup I've seen so far. If you want to book out a space to exhibit something beautiful, this is the spot. In the land of traditional theatre, "black box theatre" is a space with totally black walls and drapes that you can make look like any environment with lighting. Electric Perfume is a perfect "white box theatre" space, if you bring your own projectors for the other walls. In the future, I hope for "green box theatre" spaces for wraparound mixed reality.
Professional VR Developer Post-Note: If I want to run VR events or playtests with custom or pre-release software, I need to be able to install my own executable or bring my own machine(s) and plug it into their VR rigs. So far, I've asked VRPlayIn about this, and they were a little resistant about me installing my own software on their machines. I'm hoping that House of VR or another venue is less so – this would enable VR release parties and other special events. I or someone else shouldn't have to set up an entire temporary exhibit like TIFF POP when we want to show off something non-standard.