As I think I've already said, it is hot in India. Bangalore is known for having the nicest weather. In fact, it was recently rated the nicest place to live for ex-pats.
However, it is still crazy hot. There isn't a day for the next few weeks that has a high forecast under 30 degrees Celsius. The record highs throughout India are even causing deaths in the north. This means that when I'm outside my air-conditioned work environment, I can't think straight at all. I don't think my brain is used to operating at such high temperatures. And I am supposed to be doing the final edits on my Master's paper, as well as other readings.
I can't hang out at my apartment, since there is no AC or internet there. I've been hanging out at some coffee shops, but then I feel obligated to buy stuff, and the internet connection has been pretty terrible. But, thanks to a work friend, I discovered the fantastic Comics Cafe, which has completely saved my life.
The model for Comics Cafe is that you pay for the amount of time you are inside on your way out. Once you are inside, there is AC, unlimited pop and coffee, the best wifi I've found yet and a huge supply of American and Japanese comics books just sitting on the shelf, waiting to be read. There is literally no other way to spend money in the entire place that just to sit there. An hour of sitting, reading or just surfing the high-speed wifi is 27 rupees, where is roughly 70 cents in Canadian dollars. Many of the Japanese comics books are available both in Japanese and English, which is super-perfect for me, as I am trying to teach myself Japanese and I can do some Rosetta Stone-style translation.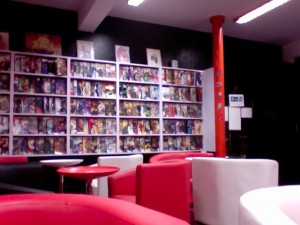 Yet, there is almost never anyone else here. I have no idea how their business model is sustainable. If you're in Bangalore, come to Comics Cafe! However, you are uninvited if you want to read 100 Bullets, which I am in the middle of devouring.
When I'm rich and eccentric, I'd love to open one of these to share all my books.