One of the dozen or so books I brought with me to India was the script of Rosencrantz And Guildenstern Are Dead. To really simplify it, its an absurdist play which follows the play Hamlet from the minor characters Rosencrantz and Guildenstern's point of view.
I had seen the play before at Theatre Five in Kingston, Ontario. One of my good improv friends (Matt Trentadue) got to play Hamlet, which many of us thought was notable, even if it wasn't Hamlet in the play Hamlet. I also think someone else I performed with later (Zorba Dravillas) played The Player.
I had never opened this book before. I think I found it on the side of the road or in some musty book shop, as all my favourite books are found. Upon opening it, this is what I found: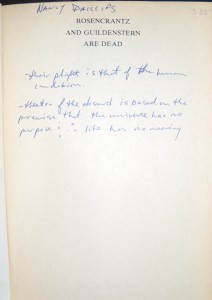 The text in blue pen reads:

– their plight is that of the human condition
– theatre of the absurd is based on the premise that the universe has no purpose and therefore life has no meaning

It looks like someone has used this as a study book before. Seeing as the book contains no text other than the play itself, this was the perfect foreword. Generally, forewords are ridiculously long and for older texts they are a chance for the dickhead that got to write the foreword to show off how much they know. All a foreword should do is put you in the right frame of mind for reading the text, and this point-form foreword did a perfect job.
Thanks Nancy Phillips (whoever you are)!